Blues Guitar Solo
The blues guitar solo is one of the most satisfying art forms you can perform on the guitar. If you're looking to be able to play like the Claptons, BB Kings and SRVs of the world, thankfully you're in the right place. I'm not saying you're gonna sound like those guys overnight but with some practice and most importantly, following the correct path, you can be playing some awesome blues solos in super quick time.
So, how do you play an awesome blues guitar solo?
The key is pretty simple. As long as you have a grasp of what a 12 bar blues is and know one simple scale shape, you can make some pretty awesome sounds straight off the bat. Some of my favorite Clapton solos use only a couple of patterns. If it's good enough for him, it's good enough for us, right?
So, if you follow my simple steps as laid out below, you can't go far wrong. Be sure to read on to the end too, as I'm gonna show you where you can find an awesome little download that will really help you move your blues guitar solo playing forward.
Blues Guitar Solo – Step One
Learn the 12 bar blues chord sequence. It's really, really simple, I'm going to lay it out below in the key of A.
A x4 Bars – D x2 Bars – A x2 Bars – E x1 Bar – D x1 Bar – A x1 Bar – E x1 Bar
Blues Guitar Solo – Step Two
Learn the pentatonic scale! This pattern is all you need to start playing a killer blues guitar solo. So, me being the helpful guy I am, I thought I'd lay the patterns our for you below. I'll show you where you can find an awesome 'Pentatonic Scale Cheat Sheet' download in a bit, which will really help you get to grips with these scales. They're also in the key of A, so you can use them with the above chords.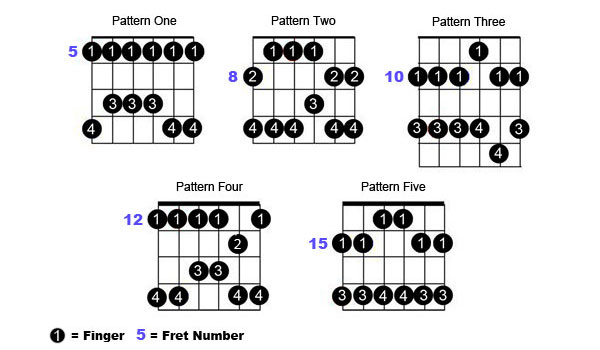 Blues Guitar Solo – Step Three
Okay, so make sure you head on over to THIS PAGE now to grab your download of the 'Pentatonic Scale Cheat Sheet,' you can print it out for your music stand so you can learn these shapes at your leisure AND you can watch my killer pentatonic scale video lesson which literally helps double your skills with one sneaky little trick. CLICK HERE NOW to go get it!
Incoming search terms:
guitar solo patterns
blues guitar soloing tips
Tags: blues guitar lesson, blues guitar solo, guitar, guitar blues, pentatonic scale, pentatonic scales, riffs