Pentatonic Scale Guitar
Hey guys,
If there's one thing I get asked about the most as a guitar teacher, it's the pentatonic scale. Guitar students everywhere want to know how to get the most out of this scale. Whatever style of music you're into whether it's rock, jazz, indie, or blues, this scale is your best friend.
To make things easy to begin with, I always say it's best to experiment with these scales over blues music. The 12 bar blues is a nice repetitive sequence, so it'll really help you to get used to the sound of the pentatonic scale. Guitar music in general stems from the blues in some way shape or form, so my advice is start there!
Now, in just a sec, I'm going to show you where you can download a really cool 'Pentatonic Scale Cheat Sheet' which shows you all the patterns you need and gives you some tips on how to convert it into the blues scale. You can print it out for your music stand, so make sure you check out the link I'll share with you in a second.
Pentatonic Scale Guitar Shapes – Learn These!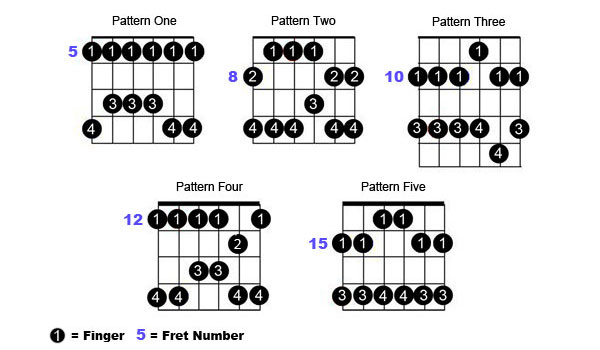 Okay, so there you have it guys, those are the five shapes you need. Before you grab your guitar though, make sure you CLICK THIS LINK, where you can download your 'Pentatonic Scale Guitar Cheat Sheet' and check out my killer pentatonic scale video lesson.
Incoming search terms:
pentatonic scale guitar
pentatonic scale chart
blues guitar scales
pentatonic shapes
guitar scales chart
blues pentatonic scale guitar
blues pentatonic scale
pentatonic scale shapes
blues guitar scales chart
Pentatonic Blues Scales Guitar Chart
Tags: blues guitar, blues guitar lesson, guitar, pentatonic scale, pentatonic scales, riffs